Map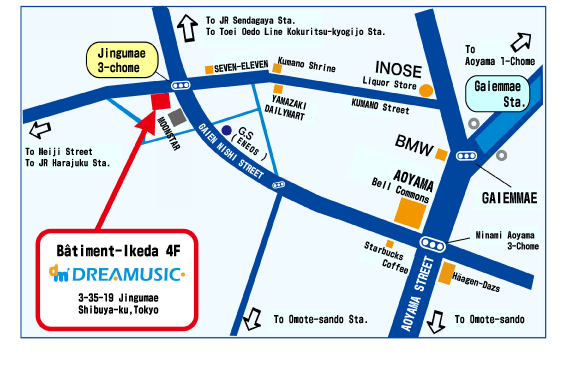 About Dreamusic( Company)
Name of the Company
Dreamusic Inc.
Company Address
Bâtiment-Ikeda 4th Floor, 3-35-19 Jingumae, Shibuya-ku, Tokyo 150-0001, Japan
Business Purposes
1) Production, distribution, and retail of music software, audio-visual software, computer software, etc.
2) Information and music distribution using an internet connection through a personal computer or a cellular phone.
3) Other music related services
Capital
¥310,210,000
Principal Shareholders
Tatsumi Yoda, T. Y. Limited, Inc.
Senior Management
Representative Director Chairman : Tatsumi Yoda
President : Mitsuo Takaku
Excecutive Vice President : Hiroyuki Igarashi
Senior Managing Director: Norio Miyazawa
Board Director : Tohru Morita
External Director: Koji Fujino
External Director: Hiroyuki Matsunaga
Auditor: Eiji Sato
Number of employees : 28 (As of January 2015)
Correspondent Banker
The Bank of Tokyo-Mitsubishi UFJ, Ltd.
Distribution in commission
Sony Music Marketing (Japan) Inc.