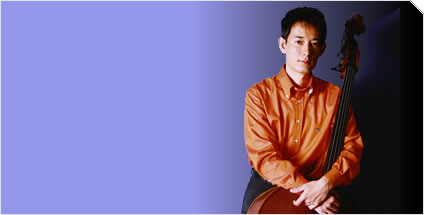 Hiroshi Ikematsu
1964
Born in Brazil. Name in Brazil…Carlos
1983
19 years old. Dreamed of being a conductor.To study about orchestra, he was recommended to learn bass instrument, contrabass, and studied under Shunsaku Tsutsumi.
1984
Entered The Toho Gakuen School of Music. Studied orchestra, chamber music under Mitsuru Onozaki, Naofumi Nishida, and Masahiko Tanaka. During, he took a lesson from the sole contrabass soloist, Gary Karr. He was moved by the music of Mr. Karr's, having full of a poetic turn of mind
1988
After graduating, studied under Gary Kerr in Canada
1989
25 years old. Joined NHK symphony orchestra
Continued studying under Gary Karr, and co-stared with him when
they came to Japan
1992
Presided a String ensemble with no conductors, <VEGA>
1994
Became the chairman of the NHK symphony orchestra.
2000
Played duo concerto of Bottesini at Miyazaki Festival (started in the memory of the maestro Isaac Sterne, the musical director of a violin world). The violinist was the world-class Cho, Chang Ling
Currently plays in the nationwide major orchestras (Saito Kinen Orchestra, Tokyo ensemble, Kioi Symphonietta Tokyo, Playard quintet, etc.)
Also continues his solo works, held a recital at Nihon University Casals Hall in 1999, followed by Opera city, Biwako Hall, Cultual Hall(small), Hakujyu Hall, and others nationwide and received a favorable review.
Has released 2 Solo Albums from Tri-m (2000, 2002). Among them, "Oblivion" by Piasora was released from Bon Music of Korea (2004).
Actively teaches younger students at the Kunitachi College of Music as a visiting professor, and also as a music lecturer at Toho Gakuen School of Music.