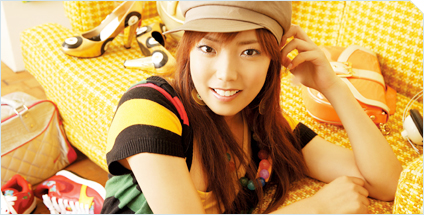 MEILIN
Born : April, 1989
Hometown : Seoul Korea
Blood type : AB
MEILIN made her debut with The Album "2003 PROJECT ALBUM" sensationally in South Korea at the age of 14. At the time, she was named "SOM2" and her music video using animation came up on TV and it's been said that she became famous at a stretch.
As she loved to dance in her childhood, she learnt the Korean traditional dance and the classical ballet from 4 years old, and she started to take HIP HOP, jazz and tap dance lessons when she became an elementary school student. In anyway, she was dancing a dance of some kind every single day. Especially she was brilliant at the Korean dance that she participated in the competition and was recommended to take this as a career. She registered in a production and started to take voice lessons in full swing. Understanding the entertainment field such as singing, dancing, and acting, etc., and supporting as to entrust their unfulfilled dreams to her, the existence of her parents was great where she started to aim for the debut in Japan.
She released " Kimi mo boku no you ni(anata mo watashi no you ni)" in Korea in March, 2006, but her voice and the dance lessons having Japan on her mind started accelerate. She spent the extremely busy days while she does her music activities in Japan since she arrived in April, 2006, she also commuted to her high school in Korea. Her 1st debut song in Japan was "SAVE MY SOUL"
" They key melody is like my character. I can sing from my heart because the content of its lyrics is the same as myself starting a new life in Japan. I want to see my parents and friends, but not easily done, need to study for my school and also Japanese. It could be my most sad and hard time of my life, but I want to benefit the most from this opportunity. Listening to this song made me feel that I would do my best, so I want to enable the listeners to share my power."
The coupling song is "Rock My World". The starting part of the song is her favorite and it is the number she sang happily at the recording.
"What I want to express the most is my "Strength"
She says she loves Ballades, yet loves to dance also. But she says she wants to sing any songs with "powerful" feelings. Come to think of it, she was on the Booklet of SOM2 boxer style. By being conscious of the "power" she can lead her own path of her life. MEILIN had a strong will from her childhood and played a leadership roll in her class. Therefore, she was an adviser to her friends and she also talked over for a long time with her friends when she was depressed, or listened to the dance music loud to move on.
The first CD she bought was of Christina Aguilara, and she dreams of co-starring with her superior, BoA.
There are 6 original songs and her repertoires are increasing daily. By listening, all the songs gives me power and make me feel relieved. Her sharp lively voice with shades changes to a husky voice at times that let out a scent of sweetness, and when she gets into the rhythm, her voice become beautiful and spontaneous more than ever. MEILIN has a charming voice that fascinates the listeners in a twinkle of an eye, and has a natural singing ability in which can sing any songs universally. If she can sing this much at the age of 17, it is a pleasure to listen to such special songs whenever she opens a new way of life from now on.
(Sentences: Natsumi Ito)