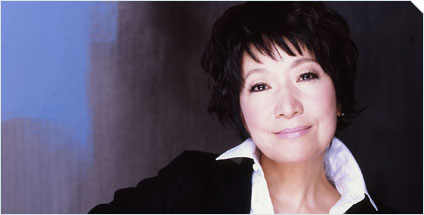 Ryoko Moriyama
1948
Born January 18th in Tokyo.The oldest daughter of Hisashi Moriyama, The pioneer of jazz world in Japan
1967
Made her debut with "KONO HIROI NOHARA IPPAI ".
She has then released many hit songs including the million seller, "KINJI RARETA KOI (the forbidden love)", "NADA SOUSOU", "SATOUKIBI BATAKE", "ANATA GA SUKI DE", etc. With her clear voice and talented skill, she has since become a top singer in reality and in name throughout Japan.
Not only nationwide, she performed and held concerts worldwide in such places as the Carnegie Hall in New York, Los Angeles, Frankfurt Germany, Seoul Korea, USA, etc.

1998
She performed variously in TV Dramas, as a Radio Personality, etc., for 18 continuous years.
Sang a theme song "ASU KOSO KODOMOTACHI GA…" at the Nagano Winter Olympics opening ceremony in 1998, and was broadcasted worldwide.
Received the best singer prize, golden award, and a lyrics prize in the 44th Japan Record Award, attained 3 crowns.
2004
Released a jazz album "The Jazz Singer" in May, 2004, and held "Ryoko Moriyama US Jazz Live Tour 2004" around live houses including the famous NY Blue Note, and received a favorable review.
2005
The Official Song "MOTHER EARTH" (lyrics: Kaito Okachimachi / composition : Naotaro Moriyama) was sung at the opening ceremony of EXPO 2005 AICHI, JAPAN.
Participated in The 56th "KOUHAKU UTAGASSEN (The Red and White New Year's Singing Contest)" with her song, "SATOUKIBI BATAKE", and it was her 3 consecutive years and 10th participation.
2006
It is her 40th anniversary of debut and is currently on her national tour "the Yoshiko Moriyama concert tour 2006-2007.
The album "Tears - Yoshiko Moriyama South Korean style album -" were released on March 1st and gained many support.
Released her second album "Yoshiko Moriyama 40th anniversary best" in commemoration of her 40th anniversary of debut
Simultaneously released single, "30NEN WO NUJIKAN HAN DE…~ The year '06 version" and became a big topic